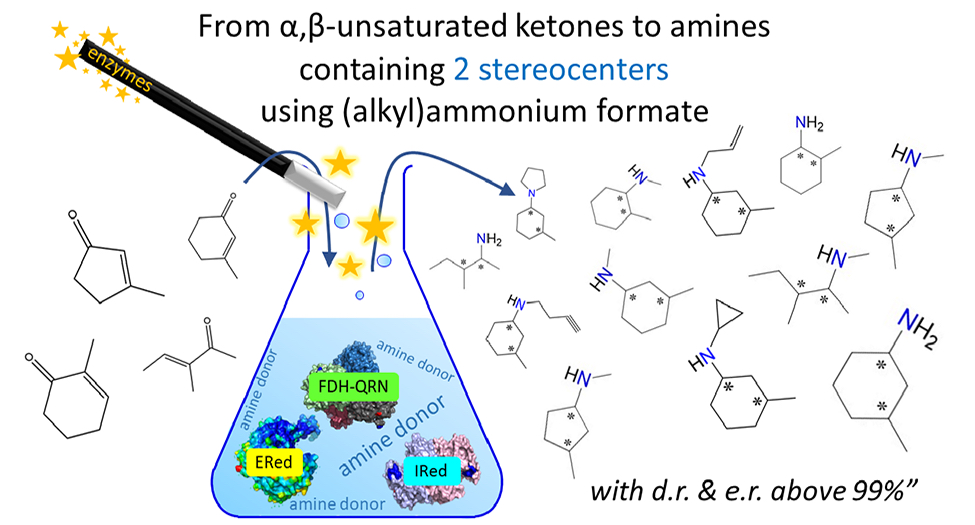 January 2023: Our ACS Catalysis publication highlighted in OPRD and in the Dutch Press
Our recent publication in ACS Catalysis entitled "Enzymatic synthesis of primary, secondary and tertiary amines containing two stereocenters" (News Item of November 2022) was highlighted in the journal Organic Process Research and Development (OPRD) and disseminated through the Dutch press.
The article by Knight and coworkers in OPRD describes some highlights taken from the recent scientific literature that are of interest for R&D chemists and engineers. The article emphasizes the synthetic applicability of our biocatalytic cascade that combines ene-reductases (EReds) with either imine reductases or reductive aminases (IReds/RedAms) for the conversion of α,β-unsaturated ketones into chiral amines with two stereogenic centers and with excellent stereoselectivity and a very high chemical purity.
Scientific journalist Daniël Linzel interviews HIMS-Biocat group leader, prof. Francesco Mutti, for Dutch magazine "C2W". In the article, Daniël Linzel features our atom-efficient methodology to synthetize amines with two stereogenic centers starting from prochiral substrates. In this interview, prof. Francesco Mutti also comments on the state of Biocatalysis research in the Netherlands compared with other EU countries, and shares part of his vision on the untapped potential of biocatalysis in chemical synthesis and its future impact on industry, environment and society.
 Publications Details
Alan Steven, Robert B. Kargbo, Carlos Mateos, Andrei A. Zlota, Christopher C. Nawrat, James P. Phelan, Alexandre Barthelme, Sylvain Guizzetti, and John Knight: Some Items of Interest to Process R&D Chemists and Engineers. Org. Process Res. Dev. 2023, 27, 1-9. DOI: 10.1021/acs.oprd.2c00393
Daniël Linzel interview to Francesco Mutti: 'Handy' enzymes create two chiral centres. C2W, 10 February 2023. Link to article